Anaesthesiology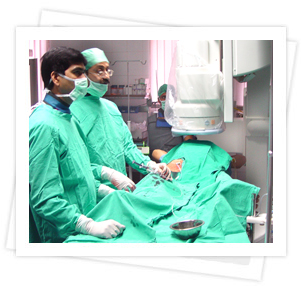 Introduction
Welcome to the a Department of Anesthesiology at Mata Chanan Devi Hospital, New Delhi. Our aim is to deliver state-of-the art, excellent anaesthesia services, pain management and intensive care in the perioperative & post operative setting.
Department Highlights
Our Operation theatre block is situated on Second Floor .We have total 9 Operation theatres,Out of which  five theatres are on second Floor ,Three on the First Floor dedicated for Obstetrics & Gynecology & I.V.F.One minor theatre near casualty.All theatres are provided with  state of art equipments like C-arms, Operating microscopes,electro hydraulic operating tables,Anaesthesia work stations with monitors X-Ray view boxes, continuous  central supply of O2, Nitrous oxide ,high low pressure air & suction
We have at MCDH Preanaesthetic clinic, seven bedded post operative room & six bedded pre-Operative room. Post Operative room is fitted with modern monitors, ventilators & crash carts for continuous monitoring & management of patients along with other paraphernalia for continuous observation of patients.
We have a team of 14 Anaesthesiologists, senior consultants, Associate consultants, Junior consultants & Clinical assistants.
We have DNB Programmes running in Hospital.At present we have 2 secondary, 2 primary candidates & In near future there strength will increase to 12.
Surgical Specialties to which the department provides anaesthesia services are general surgery, Obstetric & Gynecology, IVF, Orthopaedics, Paediatric surgery, Plastic surgeries, E.N.T, Opthalmics, Urology, Neurosurgery, Gastrosurgery, Cardiothoracic surgery. Special precautions for infection control are being taken by regular microbiological surveillance of OT'S & CSSD
OT Personnel are being regularly trained on various aspects like use of disinfectants, Sterilant handling equipment, Preparation of medication, infection control practices, observing universal standard precautions, radiation protection measures, waste management & patient management.
OT Committee & infection control committee meets to review the performance of various actvities of theatre.
Team of Specialists:
Dr. Pramod Mangwana
Dr. Rajiv Singla
Dr. Manish Gulati
Dr. Manjeet Ratra
Dr. Roma Sharma
Dr. Kapil Lamba
Dr. Rosalyn Pani
Dr. Chandra Sekhar Debnath